8. Mass of Christian Burial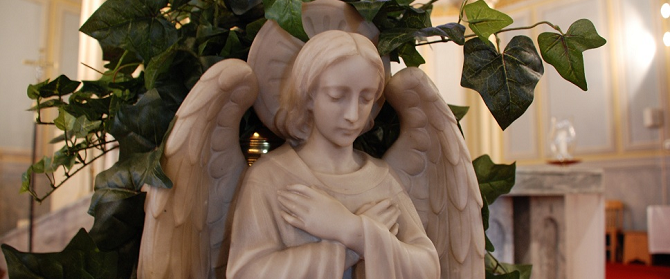 Dear Friends:
Holy Mother Church prays with faith for her children who pass from this life to the life to come. For the faithful soul this is a moment of triumph and the fulfillment of all that has been promised. Our liturgy and our prayers should reflect that same hope in eternal life and our faith and trust in the loving guidance of the church. Our thoughts go beyond the things of this world to the vision of that eternity to which we are all called. We invite the family to participate in the Rite of Christian Burial.
Enclosed in the booklet below are passages from scripture which most properly reflect the same faith and hope. Members of the family may contribute to the Funeral Rite by doing the first two readings. Also, the family may read the prayer of the faithful and select the Sacred songs for the Mass. Other members may bring up the gifts of Bread and Wine which will become the saving Body and Blood of Christ our Lord.
The General Introduction in the Roman Ritual of the Order of Christian Funerals states: "A brief homily based on the Readings is always given after the Gospel Reading at the Funeral Liturgy. Attentive to the grief of those present, the homilist should dwell on God's compassionate love and on the paschal mystery of the Lord, as proclaimed in the Scripture Readings." We encourage the family of the deceased to assist the Celebrant by sharing with him the life of faith of the deceased. Eulogies should not be given during the Funeral Liturgy.
At a Funeral Liturgy we pray for our beloved dead and ask the Lord to forgive their sins and bring them into His Kingdom. It is not a time of raising anyone to the "Communion of Saints." We leave that in the loving hands of our merciful Lord.
With prayers for you and your family,
The Parish Staff and Family of Saint Mary's
.
.
Please click here to download a Funeral Planning Guide for St. Mary's Parish
To download the above resource, you must have Adobe Reader installed on your computer. To download a free copy of this software, please click on the image below.