Welcome to Saint Mary's Parish
Dear Parishioners and Friends of Saint Mary's:
Welcome to the Website of Saint Mary's Parish of Pawtucket, Rhode Island. Our site contains information on all the pertinent details, times and contact names for all our parish programs and special events as well as holy days and secular holidays. We hope you find our site to be informative as well as inspirational and we welcome your comments and suggestions to make our site more useful to you in the future.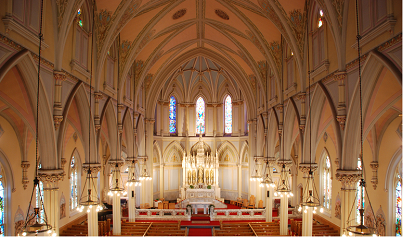 In the Gospel of Saint Matthew, we hear our Lord's clear invitation: "Go teach all Nations." For over 175 years, the people of this great parish have responded yes to that invitation. A parish is more than just a place; it is a congregation of people who are bonded by faith. In the lives of so many people, "our parish" has an important place in their journey. For Saint Mary's has been the community into which you were baptized, with whom you shared the Eucharist for the first time, that supported your solid Catholic education, which called you to confirm your faith, that provided a setting for your Marriage celebration, and even ritualized the passage from this life to eternal life. Old Saint Mary's holds a cherished place in so many of your hearts and in your memories.
The parish is the context for people to encounter Jesus. Over two thousand years ago, Jesus was sent in the fullness of time to be our Savior. During his life on earth, he called disciples, formed them by his words and actions and sent them forth to continue the ministry he had begun. Thus, the mission of a local church is to continue that work of preaching the Good News, calling new disciples, forming people in faith and developing outreach to those in need.
It is in the context of the history of God's saving work that parishes are established. Saint Mary's Parish has made a great impact upon the lives of so many. Although the years have brought changes to our parish we are confident that in the years ahead the parish will be a guiding light for future generations.
I hope and pray that through the Intercession our Patroness, Mary the Immaculate Conception, that the Lord will continue to Bless our beloved Parish for many years to come and I invite all who visit our site to become an important part of our future through your support and prayers.
Sincerely Yours in Christ,
Reverend Mark A. Sauriol
Pastor
Category : Uncategorized